Naviculocuneiform Joint Fusion
(Arthrodesis)
Indications
The naviculocuneiform joint is a joint between the navicular bone and the cuneiform bones (Figure 1). The joint is located in the mid part of the foot, on the inside. Occasionally this joint may become arthritic or it may become excessively mobile in the case of a marked-acquired adult flatfoot deformity. In some instances, it may be beneficial to fuse this joint (arthrodesis).
Figure 1- Naviculo-Cuneiform Joint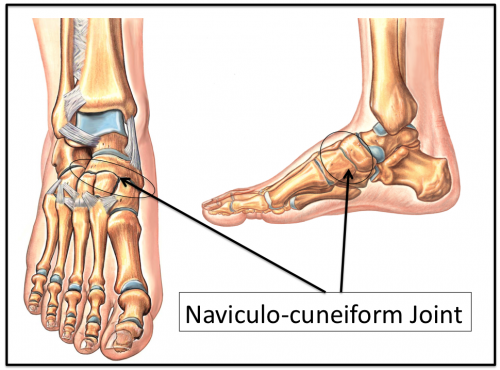 Procedure
A naviculocuneiform fusion involves making an incision on the top or slightly to the side of the midfoot, and the joint is then identified. The joint is then exposed and the cartilage covering the joint surface is removed. The remaining bony surface is prepared for fusion, and then the joint itself is stabilized with screws or plates. In some instances, a bone graft will be applied to increase the chance of healing.
Recovery
Recovery from surgery to fuse the naviculocuneiform joint may be dictated by other surgeries that have been done in conjunction with this procedure. However, typical recovery from this procedure is six weeks of non-weightbearing, in order to facilitate healing. In some situations, it may be possible to bear some weight through the heel during this initial recovery period. It is not uncommon for fusion of the naviculocuneiform joint to require a longer period of non-weightbearing in order to facilitate healing, as the blood supply to this area can be tenuous. Once the bone is healed, the patient can gradually increase activity initially in a stiff-soled boot and eventually in a comfortable shoe. It is common for this surgery to take 9 or 12 months to reach the point of full recovery.
Potential Complications
General Complications
As with other surgeries, there is always a risk of general complications which may include:
Specific Complications
Complications that are specific to a naviculocuneiform fusion include:
Nonunion of the naviculocuneiform joint. This is a difficult joint to fuse. It often has poor blood supply. In addition, it may be more mobile than normal in the case of some with acquired flat foot deformity, and this mobility can put increased force through the joint as it heals, predisposing to a nonunion.
Nerve Injury. An injury to one or more nerves in the vicinity of the incision can occur. The two most common nerves that are involved are the saphenous nerve on the inside of the foot, and one of the branches of the superficial peroneal nerve on the top of the foot. These nerves can be stretched, scarred and in very rare cases cut. This can lead to a decrease or loss of sensation on top or mid or inside of the foot. It may also lead to a burning type pain and in rare instances, a complex regional pain syndrome can develop.
Edited June 26, 2017
mf/3.12.18