Ankle Lacers
(Also known as bracing)
Edited by Steven Neufeld, MD
Ankle support and stability can often be improved with the use of ankle lacers. By limiting ankle motion, an ankle lacer may provide improved pain control, and perhaps prevent re-injury in patients who are at risk. An ankle lacer works similar to taping the ankle and has the advantage of being easier to use, albeit with the disadvantage of less support and greater bulk than typical ankle taping.
Conditions that often benefit from the use of an ankle lacer include: ankle instability, ankle sprains, ankle arthritis, posterior tibial tendon dysfunction, peroneal tendonitis, and ankle impingement.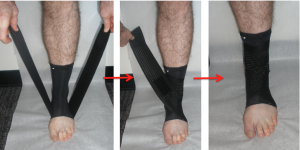 There is a wide spectrum of braces that fall into the category of "ankle lacer." Some ankle lacers are relatively light and almost flimsy, providing more comfort but perhaps less support, whereas others are bulkier and made of stiffer materials and thereby providing more support. In general, an ankle lacer can be worn with a regular shoe although often the shoe will have to be loosened to accommodate the ankle lacer. Most ankle lacers are obtained "off-the-shelf" at medical device stores, pharmacies, or online. Some ankle lacers, such as the Arizona ankle lacer, are custom made and even provide greater support albeit with more bulk and more expense.
Ankle lacers are fitted over a clean sock and then tightened either with laces (thus the name "lacer") or with Velcro straps. They can be adjusted to fit the individual patient. Also, if they are used during sporting type activities, they will often need to be readjusted on a semi-regular basis, as the foot will tend to swell with increased activity level.
Previously edited by Haley Merrill, MD 
Edited April 18, 2019
mf/ 9.10.18