Knee Walker
(Knee Roller, Knee Scooter, or Knee Coaster)
Edited by Michael Shereff, MD
A Knee Walker is basically a rolling stool with a padded cushion on which to rest the knee and with handlebars with which to steer and maintain balance (Figure 1). It is also commonly called a knee roller, knee scooter, or knee coaster. This device enables patients to take the force of walking and standing through the knee instead of through the involved foot or ankle, or through the arms in the case of crutches. It is an excellent way to completely off-load the foot and still get around. In theory, it could be used in the long term but it is generally only used during the recovery period after injury of surgery.
Figure 1:  Knee Walker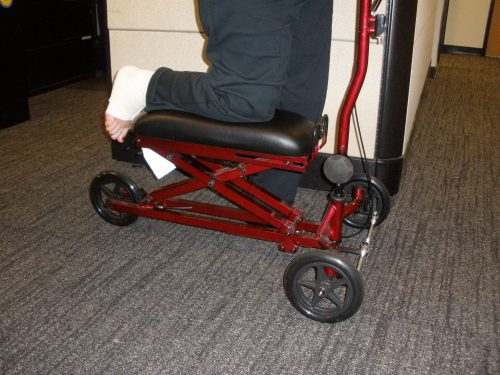 As with all medical devices, it is important to fit the Knee Walker (Knee Roller) appropriately to avoid further injuries. The height of the knee platform should be adjusted to the level of the knee in a natural standing position to avoid hip strain or discomfort. To move forward, the patient alternates between stepping on the "good" foot and rolling on the involved side where the knee takes the force.
Even though the knee walker (knee roller) allows for a relatively smooth movement, it still does create asymmetry of movement and may cause other areas of the body to be aggravated (hip, back, etc.) In addition, knee walkers (knee rollers) are substantially more expensive than crutches. While some insurance companies cover knee walkers, many may not.
Finally, there has been some recent evidence that the extensive use of a knee walker (i.e. with the knee in a bent position for a prolonged period of time) may increase the rate of blood clot formation (DVT) in the leg. This in theory makes some sense given that keeping the knee in a bent position for a prolonged period without contracting the muscles may predispose to the development of a blood clot. Due to this possibility, it may be advisable to only keep the knee on the walker when traveling from one place to another. Regularly taking the knee off the walker and straightening the knee is likely a good habit when using the knee walker.
Edited May 26, 2019
mf/ 5.2.23