Toe Flexibility Exercises
Edited by Gregory Waryasz, MD
Indications:  Who should perform these exercises?
Toe Flexibility exercises are designed to improve the range of motion and dexterity of the toes. There are several patients who may benefit from some or all of these exercises including:
Patients with claw toes or hammertoes
Patients who have undergone certain types of toe surgery
Patients who had had a foot injury or surgery that has resulted in stiffness in the toes
How is it done?
There are a few exercises that can be performed to improve toe flexibility.  These include:
Toe stretching
There are two parts to this stretching exercise.  Beware that there are some toe surgeries where one or more of the toe joints are fused and this may limit your ability to do these stretches.
Toe straightening: Grab a toe and gently attempt to straighten it (Figure 1).  Stop when you feel resistance or pain.  Hold this position for 20-30 seconds and then repeat this 5 times.  Perform this exercise for each toe.
Toe bending: Grab a toe and attempt to bend it downwards.  Stop when you feel resistance or pain.  Hold the bent position for 20-30 seconds.

Toe Dexterity
Picking up a tissue or marble with your toes is a challenging but potentially beneficial exercise for improving the flexibility and dexterity of the toes. To perform this exercise, place a tissue or marble on the ground and attempt to grab it with your toes (Figure 2A and 2B). Then if you can do this attempt to lift the object off the ground and then place it gently back on to the ground (Figure 2C). Repeat this several times over a 2-5-minute period.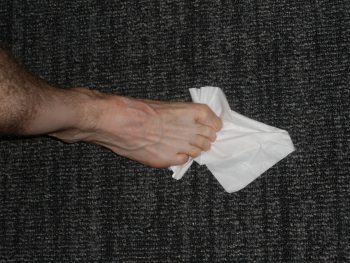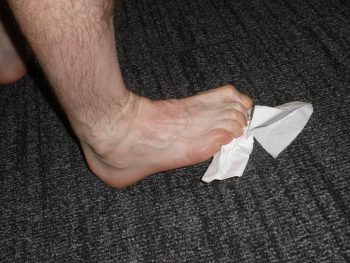 Edited May, 20, 2019