Figure of Eight Exercises
Edited by Jean Brilhault, MD 
Indications: who should do figure of eight exercises?
Anyone who is attempting to regain hindfoot motion may benefit from figure of eight exercises. This would include patients who are trying to regain movement after being immobilized, following surgery or an injury. The hindfoot is comprised of a number of joints (ankle, subtalar, talonavicular, and calcaneocuboid joints) that allow the foot to move in a way that enables it to accommodate uneven terrain, when standing and walking. The figure of eight exercises will help regain this important motion.
How it's done
Imagine that the tip of your big toe is a pen, then "draw" a figure of eight with your big toe (Figure 1). Move slowly and repeat this motion for 30-60 seconds. Take a break, and then repeat this exercise 5-10 times for a total of 5-10 minutes per day. Don't be discouraged if your motion is limited compared to the opposite foot. It often takes time to get this motion back. Be sure not to do anything that creates excessive discomfort.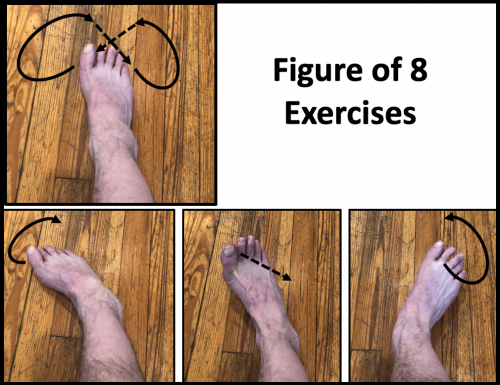 Edited May 26, 2019
mf/ 8.28.18